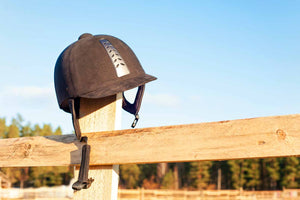 Equestrian Helmet Guide
At the risk of being redundant, the dangerous nature of this sport cannot be overstated.  The most important piece of equipment is your helmet! If you are competing in any horse show, sanctioned or not, all riders must wear certified equestrian helmets. Many are double certified and some are triple certified. Helmets made in the UK tend to have the highest certifications because the UK has higher safety standards then most countries. Helmets should be certified for impact, puncture, and crush.  The new MIPS helmets are shown to better protect against impact and whiplash. They tend to be more expensive, but Charles Owen has just introduced a MIPS helmet under $300. You can expect to pay a minimum of $250 for a good helmet but can exceed $600 with customization options. PLEASE – Do not skimp on your helmet, whatever you spend it will be less than a trip to the ER.  Certification and testing information is printed in the inside liner. 
Tips To Purchasing A Horse Riding Helmet
 Make sure you ask about the replacement policy on your helmet. After just one crash with head impact, your helmet should be replaced. Most companies have programs that will discount your replacement helmet.  Do not leave the store without the paperwork! 

Make sure your helmet is fitted by someone who knows what they are doing. If you have long hair –wear it the same way that you do when showing – take a hairnet with you if you wear one showing. Hair, especially long, changes the way your helmet fits. Most female competitors with long hair wear it tucked into their helmet which alters both the shape and size of your head and helmet fit.

Look for helmets with removable and replaceable liners and are easy to wash. You can also buy replacement liners that will add to the longevity of your helmet.

Look for a helmet with lots of venting. Efficient airflow will help you stay cool and comfortable.
---