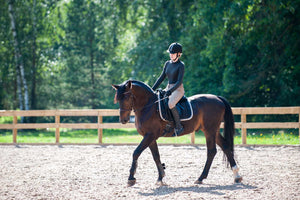 Full Seat Breeches vs Knee Patch
To wear full seat breeches vs knee patch breeches for a ride, that is the question many equestrians face when deciding what to wear. From a technical standpoint, full seat breeches are customarily worn for dressage while knee patch breeches are donned for all types of jumping. In reality, most riders wear what works best for them, their riding style, and need for comfort as well as helping the rider stick to their seat. At Equoware, we have a full lineup of breeches with full seats and knee patches featuring the latest in fabric technology for comfort and durability. Here's what you need to know about full sheet breeches vs knee patch breeches:
Design Differences Between Full Seat & Knee Patch Breeches
There's little difference between the cut and fit of full seat breeches and knee patch breeches, but there is a lot of difference in how they feel and act when worn. A full seat breech consists of a patch of leather, suede, fabric, or a synthetic variation such as silicone, that starts at the inside of the mid-calf and rises to the lower third of the seat. New riders will most often be trained in full seat breeches, because they are better at gripping. Full seat breeches are made with no seam to rub against the horse or saddle, which makes them more durable, and provides this extra grip that many riders rely on. These breeches are most often worn by dressage riders, and eventer riders.
Knee patch breeches feature a semi-triangular shaped patch that also starts about mid-calf, but terminates around inner mid-thigh. They're also made from the same types of materials as the full seat breech section. These breeches are most often worn by riders competing in hunter jumpers, and the judges really like the faux leather knee patches on these riding breeches, and they are also preferred in equitation, and any event where riders will be required to jog their horses.
Visually, there's little difference when comparing full seat breeches vs knee patch breeches, but each style aids the rider in different ways. The type of riding you engage in tends to influence the pair of breeches you wear, but ultimately, the choice of what to wear is up to you.
How Both Breeches Help You Stick to the Saddle
The patch, whether knee or full, is intended to give riders extra protection from stirrup leathers and help a rider maintain their position as they ride. The knee patch makes it easier for hunter/jumpers to rise out of the saddle and lean into the saddle and knee blocks without slipping. There's also protection for the leg from the stirrup leather during the two-point phase of the jumping form. 
The full seat gives a rider more surface area to stick to the saddle and is worn by dressage riders as they don't rise up out of the saddle in the same way a jump rider does. Dressage riders are supposed to sit through all gaits, and a pair of full seat breeches makes it easier to hold one's seat. The length of the full seat patch also protects the inside of the rider's leg from the stirrup leather and chafing. 
The stickiness, or grip, provided by the patch isn't intended to keep you in your seat, but they do protect your legs and help you maintain your placement during gait changes, help you hold your seat, and overall position in the saddle. 
Considerations of Color
There will be color and other aesthetic requirements that you will need to meet in various events, that will also affect what type of breeches you wear, and in what styles. Generally speaking, hunter jumpers will need to wear tan breeches in order to compete, except for instances where formal attire is required, such as the requirement for jumpers to wear white on "Classic Day." Outside of this, some jumper rings may allow colored breeches, such as black, blue, and navy, but riders should check the rules of their event before bringing these breeches.
For riders competing in Dressage events, white breeches will be required for every day of competition, so multiple clean pairs will be needed in order to compete. Derby riders are similarly required to have white breeches for their events.
3-Day eventers will need a combination of tan and white breeches, the white being reserved for the dressage portion, and the tan breeches covering the rest of the events.
Which Pair of Breeches Should You Buy?
There are no hard and fast rules when it comes to full seat breeches vs knee patch breeches. Many top riders wear full seat breeches for jumping, and it's not uncommon for dressage riders to wear knee patch breeches. Beginner riders are best served by buying knee patch breeches as they get used to the feel of sitting in the saddle and the movement of a horse whereas a more experienced rider knows which type of patch works best for their riding style and discipline. Riders often wind up owning both types of breeches and pull them on depending on what works best for that day. 
---