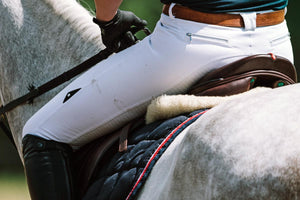 How to Clean Leather Knee Patch Breeches?
Leather knee patches are a hallmark of quality show breeches, but as with all things equestrian, they get dirty over time. This poses a problem for show breeches because cleanliness and grooming demonstrate to a judge that you're serious about being a competitor in the ring. The good news is, you can clean the leather patches on your breeches and keep them in a show-ready condition. Meanwhile, check out Equoware for your next pair of quality show breeches with leather knee patches, and read on to learn about how to clean leather knee patch breeches. 
Cleaning Knee Patch Breeches by Machine or by Hand: Which is Better?
You can clean breeches with leather knee patches in the washing machine, and you can clean them by hand. Both are valid methods of cleaning, and both get the job done well. It comes down to how much time you have to put into the cleaning and drying afterward. You will need a laundry soap or solution that specifically states that it's safe for washing leather in the machine or by hand. Breeches with suede leather patches can be prepared for washing with a suede cleaning brush. Use the brush to loosen up dirt and debris from the nap to minimize the amount of effort needed to clean the patches. 
Check the labels on your breeches prior to your preferred method of cleaning. If the label says "dry-clean only", don't try to clean the breeches at home, and take them to the dry cleaners instead. Otherwise, here's how you can clean by machine or by hand:
Washing Machine
Turn your breeches inside out prior to putting them into the washing machine, then set your machine for a delicate wash with cold water. Put your breeches into the machine and make sure it's the only garment in the basket. If this is the first time you're washing the breeches, pour one teaspoon of white vinegar into the washing machine. This prevents the dye from going fugitive in the wash and discoloring the fabric body of the breeches. Pour in the amount of leather laundry soap as stated by the manufacturer, then turn on your washing machine and let it do its job.
Washing by Hand
Turn the breeches inside out, have your leather soap handy, and fill a sink or tub with cold water. Immerse the breeches completely into the water, and get them to become soaked with water and soap. Gently agitate the breeches by hand and pay close attention to the leather patches. In the event the leather patches have oil stains, you can use Dawn dish detergent directly on the stains. Make sure to apply the soap directly to the stain and use a fingernail brush to work the soap into the stain. Use firm pressure, but don't scrub hard in order to preserve the finish and strength of the leather. 
Drying Your Leather Knee Patch Breeches
After washing, leather knee patch breeches need to be blotted and air-dried. Roll your breeches into a towel to blot out the water, then hang on a line to dry. You may need a couple of dry towels to blot out the water. Afterward, hang your breeches to dry in a convenient location. Never put your breeches into the dryer as the high heat can dry out the leather and cause it to crack. In the event the leather patches feel dry and/or stiff, use a leather or suede conditioner to replace the natural oils and return them to a supple state. 
Mens B-Vertigo Knee Patch Hunter Breech
Equoware carries first in-class equestrian wear brands for all level English riders. When we find a brand that we love, we try to get all their styles. Our favorite this season is B-Vertigos Knee Patch Hunter Breech for Men. This performance breech has front pleats and a mid-rise waist. They are made up of Lycra, an elastic like material, that provides breathability in style. Start shopping Equoware's knee patch breech collection today!
---