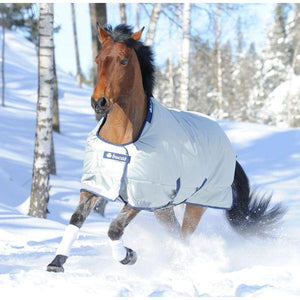 What are Horse Sheets?
Horses need their time outdoors in all weather, but that weather can create conditions that make your horse's coat bleach from the sun, soak a coat during a rainstorm, then muddy after the rain from a roll. These issues and others that affect your horse's cleanliness and comfort are the answer to the question of "what are turnout sheets?" A turnout sheet keeps your horse clean, and saves you time when grooming for a ride. Check out Equoware's selection of quality turnout sheets, and read on to learn more about why you need one in your barn trunk. 
What are Turnout Sheets?
A basic turnout sheet is an unlined sheet that covers your horse's body from chest to rump, but leaves the underside exposed. Sheets can have closed or buckle fronts, and typically have a belt behind the withers that goes around the girth line and leg straps to help keep the sheet in place. Some sheets feature shoulder gussets that allow the horse freedom of movement as they graze. They're made from different materials including cotton, nylon, and polyester/cotton blends. Turnout sheets also come in varying fabric weights and weaves that meet the need of a particular day. 
Using Different Types Sheets for Different Kinds of Conditions
The main purpose of a sheet is to protect your horse's coat from dirt and damage, but they're also good for keeping heat in or out, and preventing flies and other pests from biting, all depending on the type of that you are using. A heavy cotton duck or canvas turnout sheet is perfect for cool fall or spring days, plus they're strong enough to resist tearing when a horse lies down or rolls. As the weather gets warmer, light-weight sheet are called for to keep your horse comfortable and prevent excess sweating. For days that are extremely hot, but flies aren't an issue here are turnout sheets that have an open weave with UV protection to allow for airflow and prevent the sun from bleaching out a coat. 
Some horses are fine with a basic turnout sheet while others, such as grays, paints, and light colored coats, need more coverage to help them stay clean. The more coverage your horse has from their sheet, the less time you spend cleaning off the dirt and getting to ride that much sooner. 
Attachments for Turnout Sheets and All-in-Ones
Turnout sheets are capable of going beyond the basic body coverage with options that include neck, head, belly, and tail coverage as add-ons or as an all-in-one. Both have their benefits and drawbacks with the attachment style needing extra steps to connect all the clips and ties, and the all-in-one being an all or nothing proposition in terms of removing sections for versatility and comfort. 
The type of sheet you find yourself using the most can be a matter of preference in terms of ease of use and versatility, or responding to the needs of your horse. Having the option to add and remove pieces makes a turnout sheet more versatile and meets the needs of coat protection during show season. On the other hand, a horse that's hyper-reactive to biting insects or has a coat that's prone to staining or bleaching may be better off with an all-in-one turnout sheet at all times. You'll most likely find yourself buying multiple types of turnout sheets for one horse to balance out their need for turnout and your need to keep them clean and ready for the next ride. 
---