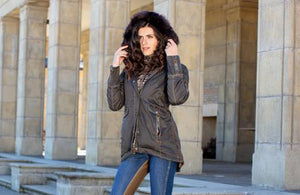 What is a Barn Coat?
There's nothing quite like the feel of putting on a barn coat for doing chores and staying comfortable in cool weather. The barn coat is the coat that you don't mind getting dirty, has plenty of pockets to hold things like hoof picks, carrots, gloves, and any other necessities for taking care of your horse. They're made from durable materials that won't tear easily, and feature heavy-duty construction. Barn coats are available for both men and women and are the most useful garment you can have for the barn. Check out Equoware's collection of barn coats to find your new favorite, and read on to learn what is a barn coat, and why you need one.
The Basics of a Barn Coat
A barn coat, no matter if it's for a man or a woman, is a jacket with a boxy cut, gussets in the back, patch pockets on the chest and waistline, snaps or button closures, and a self-fabric or corduroy collar. They're made from heavy canvas or twill and sometimes are waterproofed with wax or a similar coating. All the design details on a barn coat originate from the need for practicality and purpose in an outer garment worn in the barn. 
Closures
The most common type of closures for barn coats are large buttons. They're perfect for ease of opening and closing the coat with gloved fingers, and won't get clogged up with dirt and debris. Snaps are another closure used for barn coats for similar reasons. Zippers are the least common type of closure as they can be difficult to use with gloves, and don't always make it easy to loosen the coat when needed.
Pockets
Patch pockets are usually at the waistline and chest, but sometimes the chest pockets are zippered or have a button flap for protecting items. The patch pockets make it easy to carry things, reach for something without fighting with the opening, and are easily repaired if torn. Some barn coats have pockets in the lining for a wallet and cellphone. We fell in love with the detailing on our Goode Rider Iconic Barn Coat for Women. It has easily become our favorite barn coat for this fall season. 
Exterior Fabrics
Heavyweight cotton duck, twill, or canvas are used for the exterior body of the barn coat. These materials are strong and durable but easily cleaned in a washing machine after a brushing down. They also require a break-in period but will feel like your favorite pair of jeans once the fibers have loosened up. Collars are made from the same as the body, corduroy, leather, or suede for neck protection from inclement weather and wind. Our favorite waterproof rain jacket of the season is our Women's AA Clear Waterproof Rain Jacket. It provides optimal warmth and dryness from harsh winter and spring conditions. 
Lining materials
Barn coat linings are made from synthetic fleece, flannel bodies with satin sleeves, and quilted nylon. The lining may also feature a wind-blocking fabric as cotton by itself doesn't prevent air from flowing through. 
Shape
The classic barn coat features a box silhouette with no darts for shaping. It may have a shoulder yoke in the back with a gusseted lower section to allow the jacket to move with the wearer, and it may also have gussets at the sleeves for the same purpose. 
Picking the Barn Coat That's Right for You
The main purpose of the barn coat is to be worn over your riding or barn wardrobe for warmth and protection as you get ready for a ride or feed your horse. It should be comfortable and non-binding, durable, and have the features that are most important to you in terms of pockets, closures, and fabrics. Equoware has a selection of barn coats that are sure to meet your needs and will quickly become your favorite garment to reach for when you head out to the barn. 
---