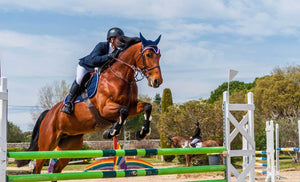 What You Need To Wear When Competing in Equestrian Shows
When investing in your show clothes remember, English Show Jumping is defined by tradition. While velvet helmets and wool hunt coats are a thing of the past, a traditional look is still important. When selecting show clothing you can never go wrong with the classic colors and styles.  Lucky for us, there are many high-tech fabrics that cater to the athletic nature of the sport. Look for 4-way, silicon seat and knee patch breeches, high tech shirts that include wicking and UV protection, and hunt coats that are made of mesh, so you do not melt in the sweltering sun. 
Jumpers
 Since there is no judging in this event, you have the most flexibility with both yours and your horse's attire. You can add color and bling, coordinate your saddle pad and your horse's fly bonnet, and you can add bling to your horse's browband. Now that you are in the jumper ring show your personality and have some fun. If you are unsure, error on the side of understated. This sport can be public in nature and you do not want to stand out as the girl with the pink coat. However, a Navy Coat with hot pink piping would be beautiful!
Breeches
- Besides tan, you will need white for your classic rounds and you can usually get away with gray, navy and black. Your beeches can have decorative trim and a bit of bling.  If you are competing in A and A+ shows check the rules; Some shows prohibit colored breeches and/or may require traditional attire. Traditional attire means white breeches. This is common in "Classic" rounds where you are riding for money and some high level shows (typically A+) may require formal attire through the entire division. 
Shirts 
- Your shirt needs to have a collar, preferably white.  Colored shirts are okay too. On schooling days', you can get away with teck tops if they have a collar.  
Show Coats 
- Any color is okay. You can have fun with bling, two toned collars and bright piping. FYI- while not a rule, tradition says that red is deserved for riders on national teams but burgundy is always a beautiful choice.
Boots 
- Tall show boots in black, navy, or brown. Either a dress style (no laces) or field are acceptable. You can also add bling and colored piping.
Helmet
– Once again, you choose the color – black, navy, gray or brown. Add colored piping colored piping, shine, bling etc. There are many colors and textures available if you want a customized look. We recently designed one that was Brown with brown croc insets and turquoise piping and rose gold vents – gorgeous!  If you only have one show helmet and cross enter in other events it is best to stick with simple black. 
Show Gloves
– Wear whatever you like as long as they help you grip the reins. Cannot go wrong with Roekle- great quality with fun bling and colors. They make kids sizes too. 
Hunters 
Sorry Hunters, not much fun for you in terms of your style.  Theoretically, the horse is being judged and not you. Your show clothes and tack should blend in. This means tan breeches, dark colored show coats, light colored or white shirts and only white saddle pads.  Your fun place is boot socks and belts, but no bling for you.
Breeches 
- Tan, tan, and more tan. Knee patch either leather or silicone are acceptable. If you are doing classes where you will jog your horse for soundness, get a breech with a leather knee patch. (Judges like it.)
Shirts 
- Must be white with a standard show shirt closure. No visible zippers. Snaps and buttons should be white.  It's nice to have a bit of white cuff showing out of the sleeve of your show jacket. 
Ties
– Okay Men, you need them but do not go wild. Solid Colors, white or light colors. Best to stay away from the Jerry Garcia look.
Show Coats
- Colors for your show coat should be navy, back, hunter green, gray or brown. Your only acceptable breech is tan with a knee patch. If you are competing in classes that require you to jog your horse for soundness, many trainers and judges prefer a leather knee patch. If you are riding in a Hunter Derby you may want a Shad belly (Coat with tails) If you are wearing a Shad belly you also need a stock tie and do not forget the pin. Mesh show coats such as the AA Platinum Motion lite are a comfortable and cool option. They also make a shad belly in navy and black.  Acceptable colors for show coats in the hunter ring would be navy, black, gray, and steel blue. Burgundy is a risky choice for the hunter ring.  Small product Logos (Less than 2.5 inches are acceptable.)
Boots 
- Your only option is black field boots. The new trend, and we love them, is to have a synthetic grip patch on the inner part of the boot. It helps stabilize and quiet your leg and your boots will wear longer. (The synthetic patch is not visible when you are riding) We Carry Tattini boots from Italy but there are many brands that now have the grip pad.
Helmet
– Must be black, no bling, matt, or low sheen colors.
Gloves –
Good quality, simple black. We like Roekle for quality, fit and grip.
Equitation
The most restrictive and formal of all classes. Everything on this list can be worn in any division. If you are just getting started and have a limited budget fill this list first. Just like those hunter riders – only more – your list of acceptable performance apparel is limited. Think tan, white and navy; so sorry. You can have fun with your socks, but your belt should be simple black. Understated, elegant and conservative should describe your look. The requirements for Equitation gloves, helmet, boots and ties are the same as Hunters. 
Show Coat
- Must be either black or navy. There should be no visible zippers showing on your pockets. Pocket flaps are preferred. Some trainers like 4 button jackets though they can be difficult to find. A good fit is most important.  Mesh show coats such as the AA Platinum Motion lite are a comfortable and cool option and on-trend. Small brand logos are acceptable. (Up to 2.5 inches in size)
Breeches
– You will need tan breeches as well. No colored stitching, bling, or bold branding allowed. Silicone or leather knee patches are both okay. Many competitors prefer a traditional leather look knee patch, especially in classes that require a jog. 
Shirts
- Must be white with a standard show shirt closure. No visible zippers. Snaps and buttons should also be white.  It is nice to have a bit of white cuff showing out of the sleeve of your show jacket. 
While most of the above information holds true there are few exceptions and "must haves" for pony riders.
Breeches/Jods
– Many pony riders, usually under the age of 12, wear jods (jodpers) instead of breeches. What is the difference between a breech and a jod? A breech is designed to go inside a tall boot and a jod is designed to go outside of a short paddock boot. They come with an elastic stay band that goes under their feet and holds the pants down. Do not lose them – they are a must and are not easy to replace.
Garters
– What the heck! Garters for kids - those little black leather straps that wrap around the leg just below the knee. Never could figure out the purpose but you need them if you are a kid showing in jods. Silly I know, but it is the rules, no other reason that I can think of.
Bows
– bows and more bows. If you are showing in pony and/or children's divisions and you have long hair, acceptable protocol is two braids down your back with matching bows tied at the ends. Bigger might be better in the case of bows but not so big that they fall out. Always have two sets!
Ties
– Traditional tie for boys – same as men. White or soft colors are best.
Oversized tee
–Who can expect a child to keep their clothes clean at a horse show? Between ponies and puppies, it is not going to happen. As an old horse show Mom, cover them up with an oversized cotton tee and you do not have to worry. 
Shop:
Women's English Riding Apparel
---